While the COVID-19 pandemic hit the world, making it unsafe to gather physically, it did not deter Nepal Pride Parade to be celebrated. We took the celebration online, while the second annual Nepal Pride Parade became the first of its kind : First Virtual Pride Parade of Nepal.
The midnight wish of Pride.
Happy Pride everyone!

गौरव दिवसको सबैमा शुभकामना

गौरबयाःया सकसितः भिंतुना

गौरव दिवसकी सभी में शुभकामनाएँ

गौरव जात्राको सबै मि शुभकामना#NepalPrideParade #NPP2020 #NepalPride #Pride2020 #PrideMonth #PrideMonth2020 #QueerPride #Queer #PoMSOGIESEC pic.twitter.com/o3gULlnyVy

— Nepal Pride Parade – 2nd Saturday of June (@PrideParadeNp) June 13, 2020
Morning
The morning began with posting of "What is Pride for you" videos by amazing folks. People expressed what Pride was for themselves and presented as a form of video.
Here is a thread link to the videos "What is Pride for you", published on #NPP2020 #NepalPrideParadehttps://t.co/z7MlyOPvTG

— Nepal Pride Parade – 2nd Saturday of June (@PrideParadeNp) June 17, 2020
Tweetathon & Instathon
A wide range of conversations happened over Twitter and Instagram from 11 am to 1 pm. Around nine different topics were discussed with five languages and wide engagements.
This morning we had a vibrant Tweetathon here. We posted in 5 languages. This is a thread to link all those threads of tweetathon. 9 topics altogether.

— Nepal Pride Parade – 2nd Saturday of June (@PrideParadeNp) June 13, 2020
The nine topics were as follows:
Hello everyone. Happy Pride ! Lets begin with, how is everyone feeling today?
What are the things you'd like to talk about and discuss today? It could be for the tweetathon and instathon right now and also the different sessions we are having this afternoon.
What was the most recent celebration of pride for you? Share some snaps and experiences if you'd like. This does not have to be that you walked on a parade but could be in any forms of expression regarding pride for yourself.
Why is Pride important for you? What are the words that capture what Pride means for you?
How do you express your pride? Do you have a certain way to do it? Like your signature thing.
Where (a space physical or virtual) or with whom (a person, a group of people, character from a book, etc) do you feel most comfortable opening up and being yourself?
Lets chat a bit about the queer rights movement in Nepal. Share with us what you know, or what you'd like to know.
What is the most courageous thing you've done as in to express your pride?
What are the conversations that you want to keep going? Not in terms of today as Pride Day but in terms of discourses in the ongoing queer movement.
Hashtag #NepalPrideParade was also trending on Twitter.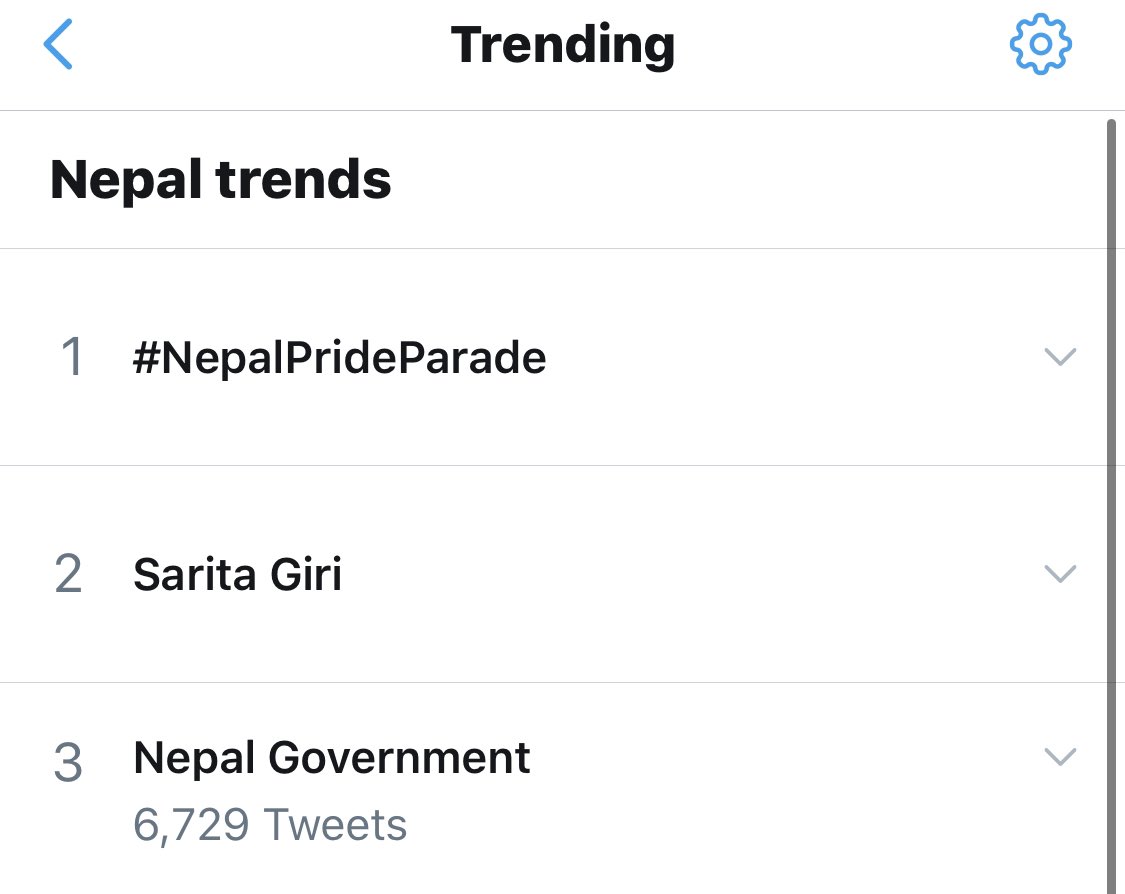 Mental Health and Us
The session of Mental Health and Us, by Raji Manjari Pokhrel and Deepsh saw around a hundred of participants. The conversation went around why it is important to have conversations like these and what significance it serves. People talked about self-harm and mental welbeing as a queer person. Similarly there were conversations about how pathologizing and labeling everything is harmful to address mental health issues and how mainstream mental health practitioners see queer folks, and how our social norms and stereotypes are reinforced in this sector.
Intersectionality in the queer movement
From 3 pm to 4:30 the talk on Intersectionality in the queer movement took place with Feminist Activist Shubha Kayastha, Writer on Gender and Caste issues Gauri Nepali and Intersex Rights Activist Esan Regmi. The discussion began with how do we understand intersectionality as and went around how queer movement in Nepal has been seen something completely different and isolated from other movements. First of all, if someone is queer, then the person is reduced to their queer identity and their image is just built upon it. On one hand queer rights activist do not acknowledge that queer people aren't here with only queer identity but all sorts of diverse social identities of caste, ethnicity, language, culture, religion, and so on; and on other hand diverse social movements in Nepal do not acknowledge that queer people also exist in those intersections of society. Therefore for many queer people who experience multiple layers of marginalization do not have space where they can talk about all of their experiences, rather are expected in queer circles to skim their experiences "purely based on queer identity" while their lived realities comes with mixture of all diverse intersections.
There were also discussion about criticisms of the phrase 'gender and sexual minorities' and whether if the queer population is minority or not. Most people disagreed that queer people are a minority. There were also suggestions to use 'people of marginalized sexual orientation, gender identity and sex characteristics'.
Around the first quarter of this session, we experienced zoombombing. A group of seven people hacked their way into the ZOOM room and started playing pornographic materials on the screen, chanted racist and homophobic slurs, one of them started jerking off and one making sexual noises. Even the host was not able to remove them. We eventually had to close that room and move to a new one. After that we also had a bit of conversation on how the conversations around safer spaces become important and incident like these show why celebrations of Pride are important. Attempts like these do not deter queer folks from organizing, rather shows why we need to organize more. We also talked about how people think the use of porn to create disruption or use of sexual content to put someone down, while it is something to do with pleasure.
We went into these discussions and slowly paced back to the topic of intersectionality.
Networking event
It began at 05:30 pm where Rukshana Kapali explained a bit of history about Queer Youth Group (QYG), how it formed in 2018, what were the initial conversations and all. Initiators of Queer Youth Group felt lack of space for young queer people to talk safely and to have many conversations deviant from the mainstream queer rights conversation in Nepal. Rukshana had started a Facebook page called "Tsi-Nu-Tok Discussions" which organized occasional discussions particularly among young queer folks with regards to queer rights movement. The name "Tsi-Nu-Tok" means "I-You-We" and was named in Kusunda language of Nepal, by Googling the details. While the events placed on Facebook had spontaneous young queer people to join, the fifth event in the series named "Taam: Word Politics in the LGBTIQ+ movement" is where people who initiated QYG first met.
Since then, QYG is an informal affiliation, in the process of registering as a not-for-profit which works in four major sectors of queer rights movement : 1) Advocacy and Policy Changes, 2) Awareness Campaigns, 3) Resource creation and Knowledge generation, and 4) Movement & Solidarity building. QYG has particularly began the conversations about queer vocabularies, usage of inclusive and friendly language in Nepali and other national languages of Nepal. The three major principles of QYG are: 1) Gender and Sexuality as diverse spectrum, 2) Intersectionality, 3) Diversity.
Similarly, Raji and Shubha explained Queer Rights Collective (QRC) which also started gathering while QYG was also gathering. People knew one another as friends, but seeing a need of having a support group where people can talk, vent and share, QRC came to be. QRC is a support group and informal network for queer folks to gather, chat and learn from one another.
In 2019, QYG and QRC collectively organized the first Nepal Pride Parade on 29 June 2019 and declared the second Saturday of June to be the Pride Day. While there has been celebrations and observance with regards to queer people in Nepal, there were no Pride Parades per se or a Pride Day for Nepal. A rally was organized during the festival of Gaai Jaatra (Saa Paaru). However since the festival is related with death rituals of the Newa community and the issue of queer rights deserves a separate day of its own where we can further highlight our issues without being subjected to mix with unrelated traditional connotations, a separate Pride day was declared.
QYG and QRC also organized intersectional Prides such as the Queer Womxn Pride on International Women's Day and the Queer Indigenous Pride on International Day of World's Indigenous People, as a section joining the mainstream rallies.
Then the conversation was taken over by Queer Makeup Artist Darshan, Non-Binary Artist Deepsh and Priyankar. They had conversation about what it means to be an artist and queer in the context of Nepal. They shared their personal experience and obeservance.
At the end of the day, there were some music. People grabbed their own drinks and shaked their bodies.
Dissemination and Pre-Pride
The first public dissemination about the pride was on May 17 – International Day Against Queerphobia. On that day a webinar on "Contemporary queer rights issues in Nepal" was organized. The topics and speakers were as follows :
1) Transgender Rights, the category of 'others gender' and recognition – Rukshana Kapali, Trans rights activist, Queer Youth Group
2) Intersex individuals in Nepal: Positioning within the queer rights movement (Esan Regmi, Intersex Rights Activist, Campaign For Change)
3) Marriage equality beyond heteronormativity, is it a possibility? (Shubha Kayastha, Queer Feminist, Body & Data)
4) Queering Mental Health (Raji Manjari, Mental Health Practitioner)
5) Young queer folks organising and what does it mean (Deepsh, Non-binary Activist, Queer Youth Group)
A historic moment was also observed with various national and international organizations as well as individuals collectively released The National Charter of Demands on Legal Recognition of Gender Identity. This marked a history in Nepal for the first time the issue of gender recognition was taken beyond the dominant conversation about 'third gender' and included the voices of binary transgender men & women, people of intersex variations, non-binary folks and people who want to opt-out mentioning gender. Similarly, other issues in Nepal, such as the confusion with regards to difference between sexual orientation and gender identity leading to defining Others gender as LGBTI; the shortcomings of the Others gender provision itself; issues concerning language & privacy were also raised. Similarly the provision around Others gender was completely rejected and demanded for a more comprehensive and inclusive provisions.
The theme for May 17 was therefore "Solidarity For Recognition".
National Queer Awareness Month
The National Queer Awareness Month in Nepal begins on May 17 and ends on the Pride Day (Second Saturday of June). There were online campaigns run about gender recognition. Rukshana Kapali, 21 y/o trans rights activist denounced her citizenship that mentions her as "Others" gender.
Various organizations and networks like YoShaN and LOOM expressed their solidarity to the movement by adopting SOGIESEC definitions. Body & Data also published a guideline for inclusive and friendly Nepali language from gender, caste, ethnicity and disability perspective. A petition to Google Translate was set up about placing correct LGBTIQ+ vocabulary in Nepali language.
Profile frames on Facebook was made in multiple languages. (Type Nepal Pride Parade on your Facebook Profile Frame Search).
A post was made on how Pride will roll online this year and a Public Statement was published.
We conveyed our messages through English, Nepali, Nepal Bhasa, Hindi and Dotyali.
With beginning of the Pride Month June, people started making noise over social media.
We also released videos on how Tweetathon and Instathon works.
We had Queer Linguistics page post Nepali vocabularies on queer terminologies.
The Pride Event was also included on Hamro Patro.